My Sites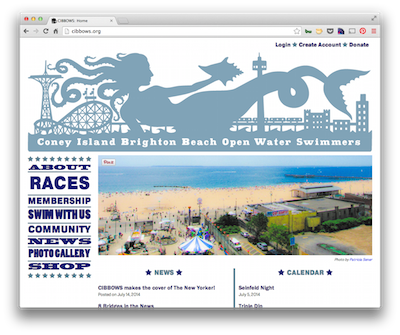 CIBBOWS is a not-for-profit group that organizes open water swim events in Brooklyn. Prior to 2014, CIBBOWS' web presence was a mix of flat HTML pages, Wordpress sites, and external payment systems. Using the CakePHP framework, I built a new site that combined the five separate sites that users had formerly had to navigate. On this site users can track their swim histories; pay membership dues; make donations to the group; and register and pay for races, swim clinics and social events. A full CMS enables CIBBOWS staff to maintain all aspects of the site, including editing content, creating races and approving swimmer registrations.

Tools used for this project: CakePHP, Stripe, jQuery, Sass, Compass, Font Awesome
My Projects
A web app to divide up the roles in Shakespeare plays among a small group of readers. The app uses PHP to determine the best distribution of roles, and then allows the user to make changes to that assignment using jQuery.
jQuery-based web app for reading ePub books within a browser.
A simple web app that allows the user to solve both regular and diagramless crossword puzzles. The app uses PHP to read .puz files (the standard crossword puzzle format) and jQuery on the front-end to allow the user to solve the puzzle.